First rule of the game: +18 years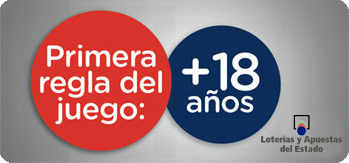 SELAE informs of the prohibition to participate in its games to people under 18 years of age, both in sales points of its commercial network through information posters located at the access doors and at the customers service windows, as well as in its websites.
UNDER-AGED PROTECTION MEASURES

1.- SELAE does not accept at all the registration of minors, and this is how we inform all our visitors in general, and the ones to start the signing up process, in particular.
2.- To guarantee the observance of this policy, SELAE is completely compromised with controlling the truth of the data provided by the participants online, through the provided verification mechanisms and requested by the Law 13/2011, of 27 of may of game regulation.
3.- To minimize the risk of an improper access on behalf of minors through the account of an adult, we offer to our registered users the adequate information to guarantee the confidentiality of the passwords. We recommend as a good practice of Responsible Game, the use of the parental control tools, both in browsers and specific apps of the market.
4.- The use of automatic saving of the password is not allowed as it could allow the immediate connection and not verified of minors with accounts belonging to adults.

5.- SELAE keeps a registry of all the access attempts, successfully or not, for its ulterior audit.